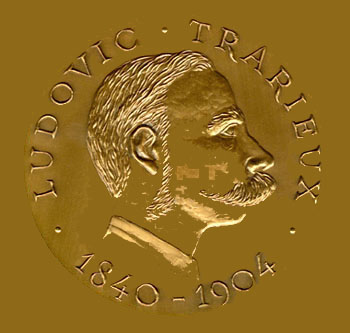 <![if !supportLineBreakNewLine]>
<![endif]>

Archive : A Tribute to Nelson Mandela then in jail - Prizewinning Ceremony 1985
"The award given by lawyers to a lawyer"
"L'hommage des avocats à un avocat"
"El homenaje de abogados a un abogado"
"Il tributo degli avvocati ad un avvocato"
"Die Hommage von Anwälten zu einem Anwalt"
"L'omaggio degli avvocati ad un avvocato"
"De award gegeven door advocaten aan een advocaat"

Depuis/Since/Dal/Seit/Sinds 1984
Thirty-five years after Nelson Mandela
The 25th "International Human Rights Prize Ludovic –Trarieux 2020
awarded jointly to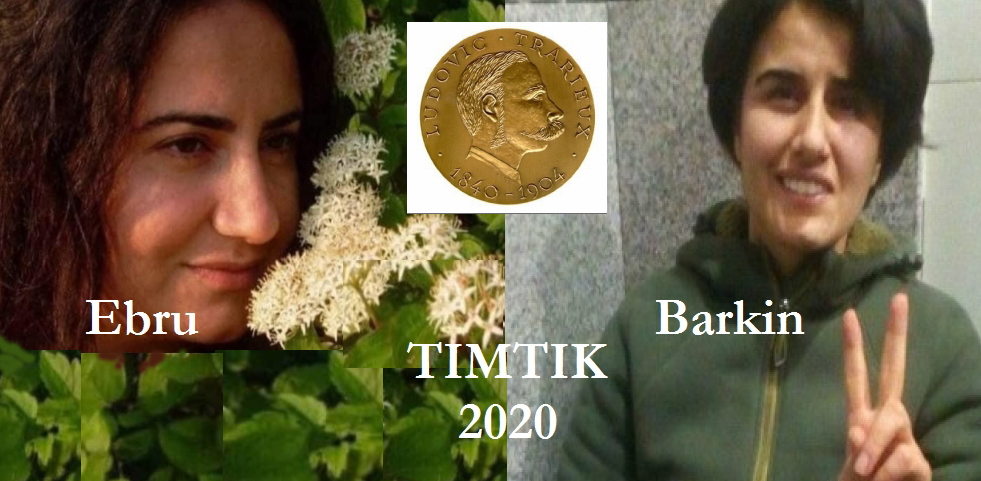 <
Barkin and Ebru TIMTIK (posthumously)
TURKEY
Two sisters, Barkin Timtik, 38, and Ebru TImtik, 42, are both a member of the Board of Directors of the Contemporary Lawyers' Association (Ҫağdaş Hukukçular Derneği (ҪHD) and is one of 16 lawyers members of the Halkin Hukuk Barosu ("People's Rights Office" - HHB), who have been arrested on September 12, 2017, during police raids precisely two days before the hearing, where they were preparing to defend their clients, Nuriye Gülmen and Semih Özakça, two teachers on hunger strike to protest against their dismissal by a decree, May 23 in Ankara. Two other members of the ÇHD were arrested respectively in November and December 2017. They are accused of having been lawyers for members of the DHKP / C and as such, for having visited their clients in prison and for having informed them of their right to remain silent. According to the prosecution, the HHB is just one of the sub-structures of the Revolutionary People's Liberation Party-Front (DHKP-C), a far-left Marxist organization, considered a terrorist organization by Turkey, Europe and the United States.
Barkın Timtik and Ebru TImtik, lawyers working for HHB were in charge of sensitive cases of DHKP-C activists, has been subjected to continuous persecution since 2013. Barkın Timtik was first imprisoned between January 23, 2013 and March 21, 2014 as part of the said trial. of ÇHD1, of which she also remains one of the accused for "belonging to a terrorist organization", because of the alleged links of the ÇHD with the DHKP / C.
On December 15, 2016, Barkın Timtik was assaulted by the police and arrested, while attending a funeral dinner to pay tribute to one of her clients, shot dead by the police. She was detained at Esenyurt Police Station for four days. She was reportedly beaten during her detention and when she was transferred from one prison to another. She was not given the opportunity to access her lawyers. Before being transferred to Silivri prison in Istanbul, Barkin Timtik greeted the other lawyers with these words: "Today I am especially proud to be part of your group [HHB]. I love you all and please greet all friends who are not here now. We have to show the enemy the meaning of solidarity and struggle. I know we are going to win! " She was then transferred to the prison of Izmir, more than 500 km away, where she was detained with several of her clients. Barkın Timtik was released at the hearing on February 16, 2017.
Two months later, on April 20, 2017, Barkın Timtik was arrested again and briefly detained, during a hearing where she was defending the family of Dilek Doğan, a young woman killed in a police raid in 2015, because she supported her clients by encouraging the public not to leave the courtroom. Three months later, on July 17, 2017, Barkın Timtik and her sister Ebru were again arrested during a press conference to defend the teachers on hunger strike in Ankara, including the People's Rights Office.
On August 5, 2017, Barkin Timtik was arrested again along with 42 other protesters during peaceful action in support of the hunger strike by Nuriye Gulmen and Semih Ozakca. Eyewitnesses who were detained with her claimed that she was taken to another section (of the police headquarters). Photos taken at the Istanbul courthouse revealed that she was tortured while in custody. According to the HHB, the investigating prosecutor and the justice of the peace issued a judicial review decision without taking his statement about the abuse.
On 12th September, Barkın Timtik and Ebru TImtik were among 16 lawyers of the ҪHD arrested and charged with "being managers of an armed terrorist organization". The detention occurred two days before the trial of her clients, Nuriye Gülmen and Semih Özakça, two educators dismissed from their positions following the failed coup attempt of 15 July 2016, that was due to begin on 14 September 2017. In the following months, other lawyers from Halkın Hukuk Bürosu (HHB ) . All were accused of "membership in a terrorist organization".
After spending a year in detention, Barkin Timtik and Ebru TImtik appeared on September 10, 2018 before the 37th Criminal Chamber of the Istanbul Court at the Bakırköy courthouse, during the so-called ÇHD2 trial. The lawyers in particular objected to their appearance through the videoconference system (SEGBIS) decided by the judges on the pretext of "travel expenses, length of road and security". Faced with this refusal by the lawyers, the 37th Criminal Chamber of the Istanbul court decided to bring the detainees to court. Four days later, on September 14, 2018, the Court ordered released for Barkin Timtik and Ebru TImtik along with all their co-accused lawyers. All the lawyers have been released. However, the Trial Prosecutor appealed against the sentence and the same panel of judges ordered the re-detention of 12 lawyers, in less than 24 hours following their initial decision. Subsequently, the panel of judges who had ordered their release was taken from the case and moved to other courts. Barkın Timtik remained in jail since then. Ebru TImtik was not re-arrested in spite of an arrest warrant against her.
The hearing reopened on March 18th, 2019. But suddenly, two days after, the Istanbul 37th Heavy Penal Court in Silivri Court House sentenced the 18 lawyers of the People's Law Office (Halkin Hukuk Bürosu) and the Progressive Association of Jurists (CHD) to prison sentences from 2 years 15 days up to 18 years 9 months. Barkin Timtik received the harshest verdict: 18 years 9 months prison for allegedly 'founding and managing a terrorist organization'. On October 8th 2019, Istanbul Court of Appeals upheld the relevant provision without an oral proceedings. Their right to a fair trial was regularly violated, and the case was based on "evidences" such as the statement of an anonymous witness and their prison visits to their clients.
On May 24, 2019, at Silivri's High Security prison, Barkın Timtik must be operated on without warning and without warning her relatives of a tumor with the size of 16×16 centimeters. She was sent to hospital for surgery, but as long as she remains in prison, there's high risk for cancer.
Ebru Timtik, who had benefited from the collective release of September 14, 2018, was re-arrested on June 20, 2019, following the conviction handed down in her absence. On January 3, 2020, she went on a hunger strike to demand a fair trial and in particular to have his legal remedies examined. She turned her strike into a "death fast" on April 5. She died in an Istanbul hospital on the 238th day of her hunger strike on August 27, 2020. At the time of her death, she weighed just 30 kilogrammes (65 pounds) .
 On September 15th, 2020 the Court of Cassation has upheld the prison sentences for 14 of the co-accused , but overturned the case of Barkin Timtik because it should be reviewed in conjunction with the other pending case against her on terrorism charges. The Courd has said also that there no longer reason to examine the fairness or Ebru Timtik's sentence, due to her death.


<![if !supportLineBreakNewLine]>
<![endif]>